AFL-CIO Action Center-- NEW Look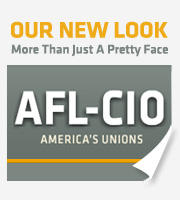 Our redesigned site puts union members front and center and offers many new features that will make it easier to take action for working families and build a vibrant online community.
Behind the streamlined design are navigation and search functions that enable you to find what you need more efficiently across the website and blog as well as within individual sections. Visitor surveys and other real-world web usage testing helped us improve navigation and determine what's most useful to our community. In addition:
The New Action Center offers a one-stop source for supporting workers, contacting Congress, signing petitions and mobilizing through social media; this section will continue to grow.
The AFL-CIO Now blog is richer than ever, with commenting functions connected to Facebook and Twitter, "most popular" features and, most importantly, more content contributed by people from across our movement.
Take a look...PARTICIPATE...click on one of links above....thanks!
---