DC 9 Painters to Picket Momentive
Brothers and Sisters,
Received a call from Brother Jeff Starks from DC 9 Painters in regards to Momentive hiring NON-UNION Painters for a Job in B76. There has been an on-going issue with this on other ocassions as well. We tried our best to facilitate with the HR Dept. and advise them to re-think this decision. DC 9 were one of the main resources for the Mike and Mike fund Labor event in Albany that raised $10,000 in 3 hours. They are a big supporter of our Local and also provide the Corporate Pig at our rallies in the Past. They will be primarily picketting the Schoolhouse Lane Contractor Entrance area. If anyone can give them support before or after their shifts for 1 hour , please do so..... Thanks.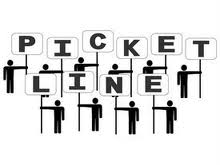 ---