SORELY NEEDED —
GE Retirees Win First Structural
Pension Increase in Seven Years!
PITTSBURGH –June 22 , 2007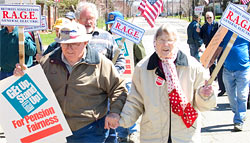 Members of the UE Local 506 Retirees' Association (RAGE) demonstrate outside of GE's Erie plant in April.
As part of the tentative agreement for a new four-year National Contract, GE has agreed to "recommend" to its Board of Directors implementation of a structural increase in retirees pensions, the first since 2000. For those retiring since July of 1997, this is their first pension increase since retiring, other than a lump sum paid to most retirees in 2003. Approval by the board is a formality, and the increase is essentially guaranteed. No, GE did not formally admit that the increase was "bargained" by the CBC unions as part of the recently-concluded negotiations. Nor did they change their long-standing and hidebound position of refusing to recognize the union as the "representative" of retirees.
Nevertheless, there can be no doubt that the ongoing hue and cry of GE retirees across the country for this overdue and badly needed increase, along with the strong support from all of the unions and their members during negotiations, was critical to this victory. Strong presentations on behalf of the retirees were made at both the UE and IUE-CWA bargaining tables in New York City. The plight of retirees was a major theme of speakers – and retirees themselves were a major presence – at the big CBC Unity Rally in Erie on June 2.
UE's Ron Flowers, formerly an officer of Local 618, and now head of Erie-based RAGE (Retirees Association of General Electric), came to the talks and made a detailed presentation at the UE table, armed with actual examples – including names, pension amounts, and increased expenses such as rising real estate taxes – borne by specific RAGE members in Erie. He recalled the crucial role his generation of GE employees played in transforming GE Erie's share of the locomotive market from 15 percent in the 1970s, to its current commanding position with approximately 85 percent of the market. There could be no refutation by the company of his simple observation that, "You owe us."

Flowers also noted that for the first time, retirees received support from other people at the annual shareholders meeting held in Greenville, SC on April 25. Speakers on other subjects at the meeting also urged Chairman Jeff Immelt to "do something" for the retirees. Also in Greenville, and subsequently at negotiations in New York, was the indefatigable octogenarian Helen Quirini of Schenectady, NY, the inspirational leader in the fight for justice for GE retirees. Quirini began her lifelong commitment to union activism as a UE member and loyalist in the Schenectady plant in the 1940s. We proudly claim her as one of our own.
The increase provides the most money to those retired the longest. Those who started their pensions before 1984 will receive an annual increase of $40 times years of Pension Benefit Service (PBS). For example, a pensioner who retired in 1983 with 30 years of PBS will receive an annual increase of $1200, or $100 a month for life. Those retiring between 1984 though 1992 will receive an annual increase of $30 times PBS; those retiring from 1993 through 2000 will get $20 times PBS; and finally those retiring from 2001 through June 1, 2003 will receive $15 times PBS. Eligible surviving spouses will receive one half of the applicable increase.
The increase for pensioners, while significant, did not address all of the retirees' demands. Those included tying the minimum pension multiplier to the bottom of the guaranteed pension tables for active employees (now to be $34), as well as ongoing pension COLA to protect retirees against the effects of inflation. Ron Flowers told GE representatives during the negotiations that if they would agree to those demands, "You won't see us anymore". GE retirees and their unions have won a significant victory with this increase, but GE will continue to see and hear from GE retirees in the years ahead.